Cold Laser Therapy is an excellent treatment that is often utilized to treat a wide array of conditions and pain. This therapy allows the body to naturally heal itself by utilizing a combination of electric stimulation and cold laser technology. This low level laser therapy consists of a light-emitting device that can be utilized on many different parts of the body.

In addition to simple back and neck pain, cold laser therapy has been utilized for a number of inflammatory conditions such as arthritis, tendonitis and sprains. The number of conditions that have been notably increased in the usage of this therapy include carpal tunnel syndrome, wound management, shoulder and neck injuries, muscle and joint pain, as well as a long list of others.
Why Laser Therapy?
Around the world, laser therapy is rapidly becoming the choice for patients seeking painless, non-invasive, and drug-free treatments for a wide variety of injuries, pain syndromes, neurological conditions, and pathologies. It can heal wounds and fractures up to 60% faster and reduce the cost of treatment for many conditions.
Can Laser Therapy Help Me?
Over 2,500 worldwide medical studies have shown safe, proven relief for: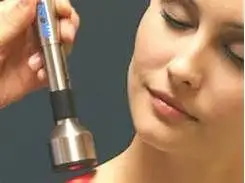 *Arthritis / Joint Pain *Nerve Pain /Radiculopathy
*Back / Neck Pain *Sciatica
*Bursitis *Shoulder / Rotator Cuff
*Carpal Tunnel Syndrome *Sprain / Strain
*Fibromyalgia *Tendonitis
*Heel Spurs / Plantar Facsciitis *Tennis Elbow
*Knee Pain *Trigger Points
*Migraine Headaches *Whiplash
*Muscle Pain / Spasms *And Many More!
As with many medical treatments today, the result of the laser therapy could be dependant upon the severity of your condition, your body's response to the treatment, and patient compliance. Studies have found, approximately 75-80% of patients being treated can notice an immediate improvement in their condition.
Is Laser Therapy Safe?
Low Level Laser Therapy is very safe. It is FDA approved and has been used for over 20 years internationally. Extensive documentation and studies have shown it to be effective and safe. Most patients have even reported their laser therapy, as being quite passive. 3-5% of patients reported a slight tingling or tapping. Some feel a slight sensation of warmth. The majority of patients however, fell nothing during treatment.
What Should I Expect With Laser Therapy?
A treatment can take anywhere from 2-30 minutes. Many factors, such as the severity and depth of the condition, will determine the duration of a treatment and the number of visits needed to provide the maximum amount of relief. Although many patients notice an immediate relief following a treatment, some patients may require 3-4 sessions before noticing a difference. It is important to follow the doctor's recommended course of treatment. While some patients may need 4-5 visits, others might need 10-18.
Will Laser Therapy Provide Me With Long Lasting Results?
Laser therapy sessions speed up the healing process in the cells that can help create a stronger and longer lasting effect. Your doctor is committed to providing you with the best care possible. The more you adhere to your treatment plan, the better and longer lasting the results will be. Many patients' conditions are permanently resolved after completing their treatment plans.
Non-Operative Treatment for Carpal Tunnel
One of the most fascinating and used healing advances of the ML830 low-level laser is the non-surgical treatment of Carpal Tunnel Syndrome. On February 11, 2002, the U.S. Food and Drug Administration (FDA) cleared the ML830 Cold Laser to be used in the treatment and management of Carpal Tunnel Syndrome.